Beer Passion in Antwerp
Many readers of
Last Orders
have already sampled the delights of Antwerp's wonderful beer scene. A relatively new addition to that scene is the annual weekend festival organised by
Beer Passion Magazine
(published quarterly, 20 Euros per year:
http://www.beerpassion.com
, but see
note
below) in June, at the Oude Handelsbeurs on Meir, the city's main shopping street.
Being in Flanders, the weekend attracted mainly Flemish brewers, although a small number of Wallonians, such as Du Bocq, were also represented. Walking into the magnificent hall, I was confronted by 20 stalls, most serving the beer from just one brewery, with a total choice of something like 150 different beers. Most beers were "van 't vat", but quite a few bottles were to be had as well. This being Belgium, there was nothing under 5% and many brews had ABVs in double figures. Fortunately the sampling glass provided as part of the BEF200 (about £3) entry fee had a sensible 20cl capacity, so I could still sample a good variety without falling over too soon. The entrance fee also included one beer voucher. Prices were fixed at BEF50 (about 75p) a glass, but as there were a lot of promotional flyers with beer vouchers drifting round the city and a generous sheet-full in the latest
Beer Passion
a reasonably inexpensive evening could be enjoyed quite easily. Needless to say, I attempted to sample something from almost every stand, with the exception of one which for some unaccountable reason was selling tins of lager. The only other stand I didn't try beer from was De Leyerth, a new brewery I would expect to be keen to have its beers sampled, but the brewer was more interested in chatting to his friends than serving any beer...
Being a lover of Geuze, the most interesting stand for me was the one run by Horal. This is a relatively new association of Lambic brewers and was selling a wide range of Geuzes from pretty well every artisanal producer. Naturally I sampled several examples of this unique beer style and very nice they were too. Standout beer here was the Hanssens Oude Geuze - smaakelijk! Horal also organise an biennial "Tour de Geuze" day, when shuttle buses run between all the Payottenland Lambic brewers and blenders; something for next year's holiday, I think.
Another interesting stand was one selling beers from a number of Trappist monasteries. The La Trappe monastery in The Netherlands no longer runs its own brewery, so all the Trappists are now situated in Belgium. However there
is
a new Trappist brewery at the Achel monastery so there are still six Trappist breweries in production. Unfortunately I didn't see any Achel beers, but enjoyed several old favourites from breweries like Chimay and Westvleteren. I don't somehow think that the attractive young lady serving on this stall was a Trappist, though...
Also worthy of note was the Palm/Rodenbach stall. Since Palm took over Rodenbach, there have been many worrying rumours about their plans for this gorgeous beer. I was not reassured by the fact that the stand was manned entirely by Palm staff who were unable to answer any of my enquiries about Rodenbach. However, a lot of money has been spent on the new visitor centre at Roeselare, so the messages are rather mixed at present.
A good selection of food was available (alas nothing suitable for a veggie like me) each dish being cooked in a different beer. There was beer flavoured ice cream too, for those wilting under the June heat. Also in attendance was the Beer Hunter himself, there to promote the new edition of his
Great Beers of Belgium
, which made a good read on the Eurostar home. I also bumped into Brussels CAMRA's Stephen D'Arcy, who told me that there should be a website up soon. That will be very useful for anybody visiting Belgium.
For such a small country, Belgium has a remarkable range of distinctive beer styles and most of them must have been available over this weekend, from strong spiced ales like
Delirium Tremens,
through wheat beers like
Wittekerke,
to the marvellous fruit beers like Lefèbre's
Newton
(flavoured with apples) and Verhaeghe's
Echte Kriek
(cherries steeped in a West Flanders Red Ale.) The
Beer Passion Weekend
was a great opportunity to enjoy those styles. The good news is, they're going to do it all again next year, again in late June. Better still, the weekend before will see a similar event in Tournai, which is in the Wallonian part of Belgium. I can't recommend this weekend strongly enough - I'll certainly be going again next year.
A few images from the Beer Passion Weekend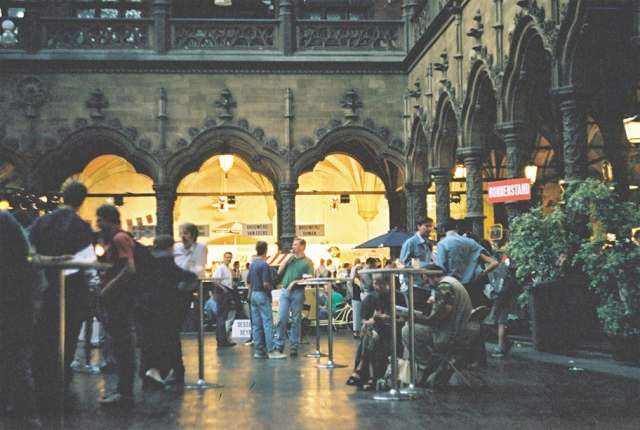 One of the quieter periods
---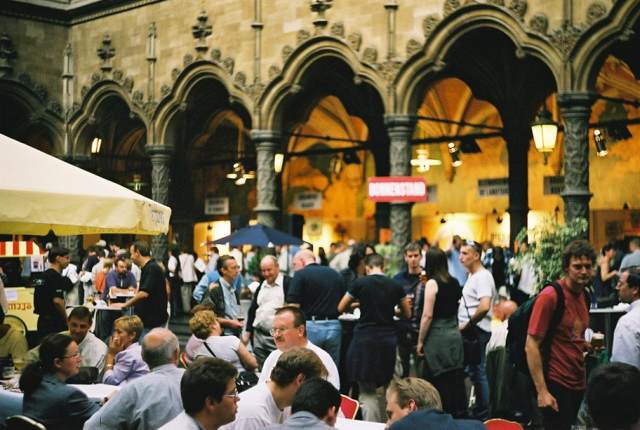 But it got busier...
---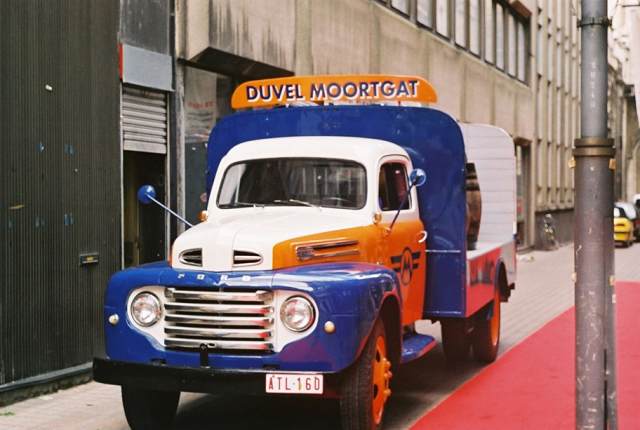 I don't think they deliver using this one any more
---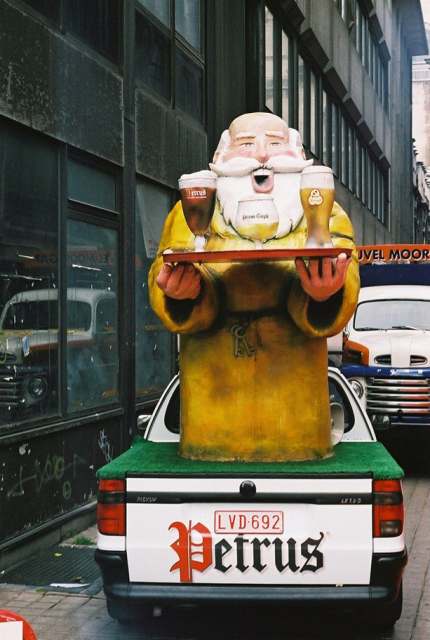 A novel promotional vehicle for Petrus
---
Note: the English language edition of Beer Passion is no longer published, as the sales weren't enough to justify the cost of translation and printing. The Beer Passion Weekend itself is now held on the
Groenplaats
which is very close to the
Grote Markt
.