Bruges finally gets its own beer festival
Most people know Bruges (or more properly, Brugge) as one of the most beautifully preserved medieval cities in Europe. The silting-up of the city's waterway to the North Sea in the 16th century led to an economic decline which meant Brugge wasn't worthy of serious attacks in the many wars which subsequently took place in the region, so it was spared the massive destruction and reconstruction that happened in so many other cities like Rotterdam, Oostende or 's-Hertogenbosch. It's with good reason that UNESCO has designated the city centre as a World Heritage Site.
Beer-lovers know that Brugge is not just a lovely city, but also has what must be the highest concentration of top-quality specialist beer bars in Belgium, making it probably the best drinking city in a country which is itself a beer paradise. Many people said that Brugge couldn't
possibly
need a beer festival. After all, with something over five hundred different beers on sale within a couple of hundred metres of the Markt, who would bother going to a beer festival as well? Ignoring the nay-sayers,
BAB
(Brugse Autonome Bierproevers), the city's
Zythos
member group, decided to give it a go and organised the first ever Brugge Bier Festival in September 2007.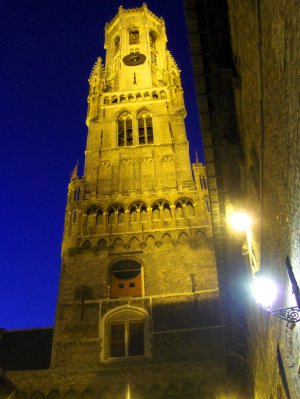 A stunning view of the Bellfort
as seen from the festival
Set in the halls of the Halletoren, one of many landmark buildings on the Markt, the festival featured over 160 beers from nearly fifty Belgian producers (along with a British guest brewery, Felstar, from Essex.) As well as Belgians, the event attracted a large number of beer-lovers from around the world, including a coach-load brought over by our old friend Podge (author of
Around Bruges in 80 Beers
). Fortunately, the noisy neighbours from across the Atlantic don't seem to have heard about this festival yet; only time will tell if future festivals get as infested with gobby Yanks as many other Belgian festivals (and beer bars) seem to be these days.
Decent food was available for the duration of the festival; not only filled
broodjes
(baugette-like rolls) but also a range of meals cooked with different beers. Over the two days, eight chefs gave demonstrations of beer-cookery, with the results available to buy afterwards (sadly no use to a vegetarian like me, as they were all meat-based.) The food certainly appeared far more interesting and much better value than the over-priced rubbish we have to suffer at Ipswich Beer Festival due to the venue making us use their monopoly caterers. And if you didn't fancy what was available at the festival, the excellent
frietkotten
(chip-fryers) on the Markt, right outside the festival, were there to fill you up.
As is usual for beer festivals in the Low Countries, beers are purchased using pre-paid tokens (jetons) which cost €1 for a nominal 15cl glass of whatever you decide to try. I find this a very good system, because this is enough beer to get a good impression of the beers but a small enough to mean that it's quite possible to sample ten or more different beers in a session yet still get up the hotel stairs afterwards. (and my hotel had
very
steep stairs!) Entry is free, but you
do
have to buy your glass (€3) which, unlike CAMRA festival glasses, is not refundable.
A good feature of Belgian beer festivals is that the beers are generally sold by staff from the breweries; often even the brewers themselves. This means that you actually get to chat to the people responsible for the beer you're sampling, which is always interesting. This was no exception, with many familiar faces behind the bars including the great Lambic brewer Armand Debelder, of
Drie Fonteinen
.
As you'd expect, most of the brewers were Flemish, but a few Walloons, such as
Dupont
and
Sainte-Hélène
ventured north, giving me a chance to practise my French as well as my Dutch while enjoying a tasty drink. Most of the breweries were selling their normal beers (though quite a few which are normally only found bottled were on draught) but I found a few unusual or special beers which excited my palate.
Liefmans
had a rare barrel of
ongezout
(unsweetened) kriek. Despite having previously sampled this at
't Waagstuk
in Antwerpen, I couldn't resist another glass of this delight, which really shows up how heavily sweetened their normal bottled Kriek is. The undoubted highlight though, was a beer specially produced for the festival by
Frank Boon
; a barrel of Kriekenlambic made with Schaarbeek cherries. This is the cherry variety that used to traditionally be used to make kriek, but is now very rare, so isn't used much any more. From the first sniff, this was obviously going to be a very special beer with an amazingly intense yet distinctive scent. And the taste was quite exquisite. One to keep an eye open for if Frank produces another barrel of it.
Other highlights included the Oude Geuze from the recently re-opened
Oud Beersel
lambic brewery, Tonneke from
Contreras
and Potteloereke from Sint Canarus.
Felstar
also got into the Belgian beer spirit with their 10.5% Legless Knight.
So were the critics right? Most certainly not. The festival was a great success; very well-attended with a superb range of beers, many of which you wouldn't even find in any of Brugge's best beer bars. The only real criticism I have is a side-effect of the fact that the hall was (thank goodness) smoke-free. Unfortunately the smokers all congregated on the balconies and stairs so anybody wanting to go outside to the courtyard or back in the hall had to suffer their foul fumes, and typically of smokers' lack of consideration for anybody else, they didn't bother about whether or not people could get past them. Future festivals would do well to only allow smoking on the floor of the courtyard itself (or better still, ban it completely from the premises.)
2008's beer festival is already in the planning stage; November 15th and 16th are the dates for your diary if you want a marvellous chance to enjoy the cream of Belgium's beers in superb surroundings. Keep an eye on
the festival's website
for further details.