Bière de Paris
Beer isn't the first alcoholic beverage that comes to mind when you think about France. However, a respectable number of craft brewers do exist in around the country; many of them in the north where no doubt the proximity to Belgium is a major influence.
Having been told by Christophe of the Brasserie de la Soif in Nantes that getting beer into Parisian bars was next to impossible, I wasn't expecting the variety of beer to be found somewhere like Brussels, but I set off on the Eurostar armed with a few recommendations and the intent to track down
some
interesting French beers. I visited in mid-February 2002, so details may have changed depending on when you are reading this.
Many thanks to the people on
uk.food+drink.real-ale
who provided me with a useful starting list of recommended bars.
One word of warning is in order if you intend drinking in Paris.
EXPENSIVE!
Although it's true to say that almost everything in the city is pricey - even a filled baguette will set you back anything from €2 - 4. The average price of beer is certainly in excess of €7 for a half litre.
The first result to my question 'Vous avez des bières Française?' in a bar near my hotel brought forth a bottle of
Kriska
, a rather unpleasant concoction whose ingredients list included sugar and 'vodka essence'. Definitely something intended to be drunk straight from the bottle by un-discerning youths.
Plainly it was time to start looking at the recommended bars instead. Taking the Metro back to the Eurostar terminus at the Gare du Nord, my first port of call was the quiet
L'Académie de la Bière
, directly opposite the station's main entrance. This has a narrow frontage which opens out a little behind the bar, which runs perpendicular to the street. Whilst not tatty, I think the place has certainly seen better days. A small but respectable selection of beers 'au fût' was available, but bottled beers visible were limited to a few distinctly old-looking Belgian beers; some with label designs which clearly go back quite a few years. Whether these are just old bottles being used for display or actually what's being served was hard to work out, so I settled for a glass of Belgian
Wieckse Witte
, which was in excellent condition and nicely washed away the remaining traces of 'vodka essence'.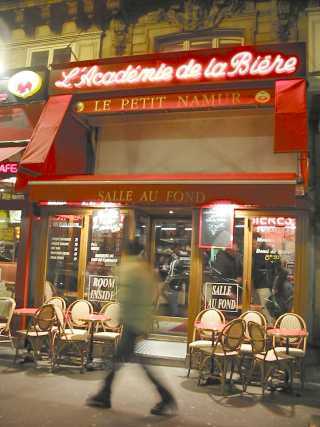 L'Académie de la Bière
---
My next stop was about 100 metres west, at the
Café-Concert Falstaff
, (15 rue de Dunkerque) a busy bar/restaurant which features live music most evenings. The band plays at the back of the place, so you can drink at the bar in reasonable peace. Here there is a long array of beer pumps and somewhere in the region of 100 bottled beers to choose from. It was interesting to note that the range of international beers available even included Fraoch! This is a comfortable place which does very good business. Service was good though, with the staff sometimes running around in an almost demented manner. I started with a 75cl bottle of
Ch'Ti,
from Picardy. It was drinkable, but not particularly exciting, being light, fairly thin and pasteurised. Pricey at €9.50, too. The presence of a number of Lambic beers on the menu quickly tempted me away from the local brews and I enjoyed a glass of draught
Lindemans Framboise
(1/2l, €8.80) which was extremely good. I also had the
Geuze Bécasse
(1/2l, €7.40.) This turned out to be quite common around Paris. As there's no
Bécasse
brewery, I assume this to be a branding of Timmermans, who own the famous
Le Bécasse
bar in Brussels.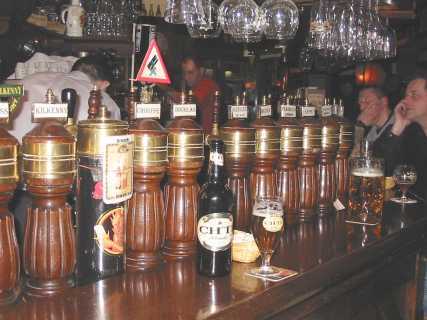 A good range of pumps on the Falstaff bar
---
The Next evening, I started out a bit further from my hotel at another bar called
L'Académie de la Bière
(88 Boulevard de Port Royal, Port Royal Metro.) This is an excellent bar with a good range of roughly 100 bottled beers and about a dozen taps. Whether this is related to the bar with the same name mentioned previously would be interesting to know but sadly my French, whilst good enough to get by with, wasn't up to asking the question. As I had decided that I was only going to fall back on expecting the locals to speak my language in the direst emergency, this question didn't get asked. There is an interesting selection of obviously fake American 1950s/60s rock & roll posters behind the bar (I know Americans can't spell, but even
they
wouldn't commit such awful greengrocers' apostrophes as "The Rolling Stone's" or "Buddy Holly & the Cricket's".) Here I sampled
Pietra
, a 6% beer (€6.60) brewed in Corsica using 'chestnut malt'. Very tasty. Next came a bottle of
Écume de Ré
(€6.60) which was dark but fairly thin and dull. Again, I was unable to resist the call of the Lambic and had to try a glass of draught
Geuze Vieux Bruges.
(€3.90) A fairly sweet drink, I'd guess this is probably renamed
Belle Vue
geuze (it certainly can't be from Bruges, where Lambics can't be brewed.) Finally, I couldn't resist a bottle of one of my all-time favourite beers,
Hércule,
from the
Brasserie Ellezelloise
in Wallonia (€7.40.) This is another fairly small, but comfortable bar with good service.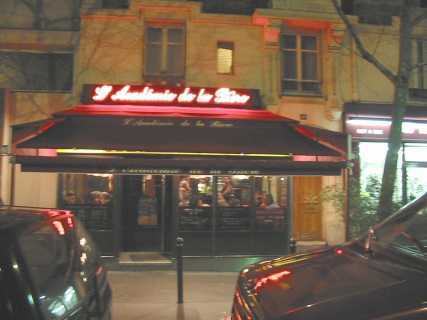 L'Académie de la Bière
---
L'Académie de la Bière
can be recommended. This is more than can be said for
La Geuze
(19 rue Soufflot , Metro Luxembourg.) I tried a bottle of
George Killian's,
(€5.80) which, when I read the label described itself as a 'bière speciale de tradition Irlandese' - to put it another way, a poor attempt at an Irish Red Ale. Even the bottle demonstrated that the brewer wanted it to look Irish. The service here was indifferent, even by Paris's notorious standards, and despite the name of the bar, it seems that the staff don't know how to serve Geuze; my second bottle (
Kreik Cantillon
- €11, for goodness' sake!) was shaken badly during un-corking and served with a glass far too small for a bottle-conditioned beer. This really helped to reinforce the initial poor impression of the place; even after I had made it clear that I intended trying a number of beers, the waiter tried to take the menu away as soon as he'd served my first one. A shame, really, because it's an otherwise pleasant café, with a more varied than usual beer range and an interesting set of beer-related stained glass windows. If you
do
decide to try La Geuze, I suggest you go between 1600 and 1900, when two beers au fût are to be had for the price of one.
La Gueuze
---
Unfortunately, one Left Bank bar that had been recommended to me (
La Taverne de Nesle,
32 rue Dauphine) was not open. Whether I just picked a bad time or it has closed down was hard to discern. Sadly I think the latter is more probable, as I'd be surprised if the bar didn't open on a Saturday night. If anybody knows either way for sure, it would be interesting to hear.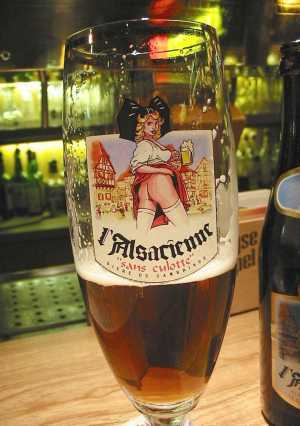 So
that's
what it means!
---
Jumping again onto the Metro, I got off at the Châtelet station and headed for
Au Trappiste
(4 rue Saint Denis) which describes itself as 'La Royaume de la bière' (the kingdom of beer.) A reasonable set of taps are backed up by a menu of about 140 bottled beers, 60 or so from Belgium. In Keeping with its name, Au Trappiste does have a fair selection of Trappist beers, albeit only the commoner ones such as Chimay and Westmalle. Another comfortable bar, but beware the toilets! These are the 'put your feet on the treads and hope your aim is good enough to hit the hole in the floor' type. This could prove 'interesting' after a few too many beers (especially for the ladies!) Here I stuck to French beer (or so I thought at first) and started with a bottle of
Bière du Désert
(that's desert, not dessert) which was pleasant enough, but failed to hit the mark. I expected to do better with
L'Alsacîene sans coulotte
, which has a picture on the glass that leaves no doubt what the name means... This was a bottle-conditioned, lightish beer and was very nice. Assuming from the name that it was brewed in Alsace, where I'd expect to find good beer brewed (despite Kronembourg) its flavour lived up to my expectations. However, the small print on the bottle revealed that it was actually brewed in Belgium. Oh well, I
tried
to stick with French beer!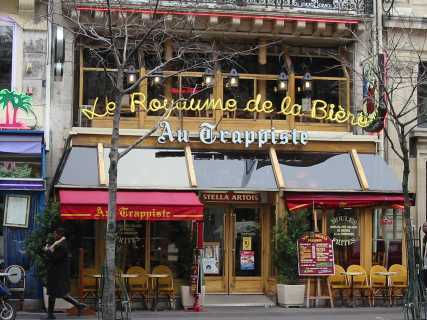 Au Trappiste
---
Paris has one very well-known set of brew-pubs, the
Frogpubs
chain. It appears from their website that they are very much aimed at serving British-style beers to visiting Brits. Since I would no more want to visit a British pub in Paris than I would an 'Irish' pub in London, I avoided this chain completely. I did, however, visit two other brewpubs. The first,
La Fabrique
(53 rue Faubourg-St-Antonine, Bastille Metro) is a dark, bare-boards bar with very loud modern disco music making conversation difficult. I sampled their
Blanche
(1/4l, €4) which is a cloudy wheat beer that was refreshing but bland. Whether the flavour was helped or hindered by the slice of lemon put in it is uncertain. Probably worth a visit if you're into the 'yoof' scene and don't value your eardrums, otherwise not really of interest.
Update
I have since been informed that this bar no longer brews on the premises.
La Fabrique
---
Finally, I visited a bar whose name might have led me to think it was a 'plastic paddy'.
O'Neil
(20 rue des Canettes, St Germain des Prés Metro) is part of the
3 Brasseurs
group, which also has brewpubs in Strasbourg, Lille and Lomme. The brewing vessels sit in a tiled area immediately behind the window, so a good view of the brewing process can be had if you visit at the right time. This is another fairly dark place (although nowhere near as dark as La Fabrique) with a lot of wood-panelling. It looks in parts a bit like you might imagine a Dutch Brown Café to have looked before it got covered with a century's worth of nicotine. Four regular beers are brewed, as well as two occasional ones (spéciale and bock.) The beers are un-pasteurised, but give the impression of being kept under pressure, albeit not so much as to make them excessively gassy. They are served in two sizes,
Le demi
being 25cl and
La chope
40cl. You can also buy
une Palette
of three or four different beers in 15cl sample glasses. It's worth noting that the price here goes up after 9PM (although the menu says 8) so that une chope of a middle-priced beer would go from €3.96 to €4.88. I enjoyed the beers (and the relatively low - by Paris standards - prices) enough to come back, so I got to try all four available beers.
La Blonde
is a very light beer rather like Oakham JHB with la lower hop rate.
La Blanche
is an enjoyable cloudy wheat beer which happily doesn't come with a slice of lemon.
L'ambrée
is, as its name suggests, a deep amber beer with a lot of maltiness in the flavour. Finally
La Brune
, described in the menu as having Irish influences (we're getting worryingly near to plastic paddy territory here) actually tasted to me more like a strong mild than the stout the menu implies. This was my outright favourite and the last night of my holiday was spent emptying chope after chope of the stuff. Lovely!
---
In conclusion, while Paris can't compete with such great beer cities as Brussels or Antwerp, it certainly has enough bars worth visiting to keep the discerning beer-lover happy. It's a shame there aren't more beers from France's craft brewers available, but that's not really a situation much different to most other European capitals. The Metro system is excellent for getting about, with no point in the city more than 500 metres from a station and trains running at intervals of little more than a minute. Every metro station has very clear maps of the area, so there's no difficulty navigating. Paris has a reputation as a place where the service tends to be surly, but I found the opposite to be the case in nearly all the bars I visited. It's certainly very expensive, but for my part it was nice to finally get the chance to spend some Euros and has reinforced my view that the sooner Britain adopts this excellent idea, the better.