PINT: 25 Years of Dutch Beer Campaigning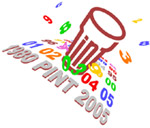 When Camra was founded, the UK had approximately 100 breweries. When our Dutch counterpart, PINT (Promotie INformatie Traditioneel bier) was founded in 1980, the Netherlands' brewing industry had withered to a tiny 16 breweries, so they had an even bigger task ahead of them than we had. As PINT celebrated its 25th anniversary in 2005 by holding the Dutch equivalent of the GBBF at the Koningshoeven Monastery (home of the La Trappe brewery) it seemed like a good excuse to use the benefits of having learned Dutch to survey the current state of the Dutch beer industry and to sample its beers at the festival.
A quarter of a century after PINT's founding, the Netherlands now has 71 breweries, representing growth by a factor of about 3 1/2 which is a little bit less than the growth in UK breweries (growth by a factor of roughly 5 in the longer time since CAMRA was founded.) Although this is a great improvement, it's interesting to note that according to the commentary on a boat trip I took in Groningen, a century ago that one city had over 300 brewers, so clearly there's a long way to go.
PINT itself is a small organisation, with only 3000 members, a fact bemoaned by several members I spoke to at the festival especially as the much newer Norøl (the Norwegian EBCU member) has already overtaken this figure. Such small numbers must make campaigning difficult, especially if PINT has a similar active to inactive members ratio to that in Camra. Certainly it makes the production of their GBG equivalent difficult; surveying is currently underway for the first edition to be published since 2000. With the GBG being one of Camra's biggest campaigning tools (and moneyspinners) this means that PINT are at an even greater disadvantage. Local beer festivals are pretty unusual, leaving just the two national festivals (the summer fest and the Bok bier festival in early spring.) Publicity seems to have been somewhat lacking; despite the festival being held just outside the city of Tilburg, not a single person I spoke to there knew it was on.
The festival was held in an open courtyard in the brewery area of the monastery; evidently the monks weren't keen on the disturbance of having all those beer lovers around as I only spotted two of them through the whole festival (neither of them drinking!) PINT had hoped to have at least one beer from every brewery in the country but in the event, 18 of them were unable to supply any beer due to being too small to have the extra capacity. Sadly, breweries who did send beer included Heineken and InBev, the latter demonstrating their commitment to quality beer by sending tinned stuff, which nobody will be surprised to hear I managed to resist. With something like 140 beers (mostly strong) to choose from, I was never going to try everything over the two days, or even manage to try a representative sample. So I concentrated on dark beers, mainly from brewers whose beers I haven't had before. As all beers were priced at EUR 2 for a nominal 300ml, purchased with pre-paid muntjes (plastic coin-like tokens), I had no worries about change. Most of the beers I sampled were very nice, some excellent and only a few were poor, so I reckon Dutch brewers are definitely heading in the right direction. Highlights include the richly-flavoured Hazelnoot Porter (5.5%) from Klein Duimpje in Hillegom, Oude Jan (5.5%) from Van Kollenburg in den Bosch and Zatte (8.0%) from the always-reliable 't Ij brewery in Amsterdam, whose beers are up there with the best of the Belgians. Disappointment of the festival was X-Porter (4.5%) from SNAB, which from its description and SNAB's reputation I was expecting to be rich and tasty but turned out to be thin and un-interesting.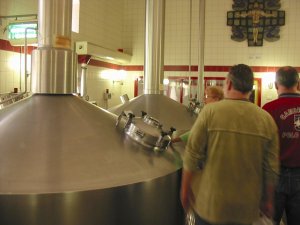 Being held at a brewery, short trips round the brewery were naturally available, but I found the visit rather disappointing as the only part we got to see was the room containing the brew-kettles, with most of the commentary apparently about the history of the Trappists rather than the brewing process (based on the bits of Dutch I understood.) I did wonder if there might have been something they were hiding, especially as La Trappe had been using the "Trappist beer" appellation despite having had official recognition as a Trappist brewery withdrawn many years ago. But I've been told by Belgian beer writer Joris Pattyn that some people did get to see the rest of the brewery. (Now how do I get on the "A" list next time?) Joris also told me that La Trappe would officially be a Trappist brewery again shortly after the event, a listing which has indeed happened, making this the only non-Belgian official Trappist brewery.
While I was in the country, I took the opportunity to travel around a bit and see how much good beer's available in some of the less-visited Dutch cities. Although the PINT guide is out-of-date, it still led me to a few decent bars. The other guide I've found indispensable on Dutch holidays is Bijzondere Biercafes in Nederland (Special beer cafes in the Netherlands) published annually by the Alliantie van Bier Tapperijen, which is the trade association for specialist beer bars and available free from any member bar. I'd always take a commercially-produced guide with a pinch of salt, but so far I've only found one bar in it that I wouldn't go back to. You can pick up a free copy of the guide in any member café, see
http://www.alliantie-van-biertapperijen.nl/leden.php
for a full list of members.
Apart from having gone through an even worse crash in brewery numbers than we did in Britain, the Dutch brewing industry suffers from two big problems. First is the sheer market dominance of Heineken, Grolsch and InBev. The other big problem is the proximity to and close links with Belgium, which mean that most Dutch bars that try to stock decent beer tend to specialise in Belgians and rarely have more than a few beers from Dutch micros. Bars I found with a better than average range of Dutch beers include:
De Pintelier, Kleine Kromme Elleboog 9, Groningen. Although this bar, in the most northerly major Dutch city, styles itself a Belgian café, there are a good number of Dutch beers on the extensive menu; enough that I managed to spend three evenings here without drinking the same one twice (though I did have to go Belgian for one beer, since they'd just got new stock of Westvleteren Abt, which I can never resist.) http://pintelier.nl
Belgie, Oudgracht 196, Utrecht. Another bar that gives the impression there won't be much Dutch beer, but actually carries a good selection amongst its 10 draught and 180 bottled beers. Good food as well, with imaginative choices for vegetarians.
De Deugniet, Verwersstraat 55, 's-Hertogenbosch. A great little bar run by a very friendly landlord, Otto Schlager, who is enthusiastic and knowledgeable. As well as a respectable selection of Dutch beer, he also stocks interesting beers from other countries; even having Russian beer in stock when I visited. British bottled beers are popular with his customers. http://www.cafededeugniet.com
De Paas, Dunne Bierkade 16a, den Haag. A favourite bar in the Dutch capital, which as well as stocking an excellent range of Dutch beers amongst its choice of 11 draught and 165 bottled, is handy for a quick drink while you're waiting for a train at the nearby Centraal station. The only thing I don't like about De Paas is that the lighting is very subdued. Since the print on the beer menu's very small, it can be hard to see what's available. http://www.depaas.nl
Thembi, Dopplerdomein 20, Maastricht. Hidden away in the University quarter of the city, this can be hard to find, even with a map. But it's worth seeking out, with a range of 10 draught and over 300 bottled beers, containing a good number of Dutch beers. I was particularly impressed when, in the absence of a full list I asked the landlord for "something Dutch, dark and tasty", he presented me with a bottle of 't Ij Columbus - my favourite Dutch beer!
In De Wildeman, Kolksteeg 3, Amsterdam. Only a short walk from the Centraal station, but hidden down a side-street, this is undoubtedly the best bar in the city, with plenty of Dutch beers in its wide range of international beers. Being hard to find means that it's not over-run by the tourists who visit Amsterdam mainly for sex and spliffs. Unusually for a Dutch bar, it even has a smoke-free room. http://www.indewildeman.nl
Cambrinus, Blaak 4, Rotterdam. Nestled directly beneath Rotterdam's famous cube housesand directly oppositand directlyte Rottedam Blaak Station (metro and mainline.) As with most other Dutch beer bars, Belgian beers dominate the list but there are enough interesting Dutch beers to make this a worthwhile visit.
Useful Links:
PINT:
http://www.pint.nl
Alliantie van Bier Tapperijen:
http://www.alliantie-van-biertapperijen.nl
lists all member cafes. It's in Dutch, but you should be able to find what you want, even without Babelfish (follow the link marked "Leden)".
Beermad's Dutch brewery page:
http://www.beermad.org.uk/links/brewery/9